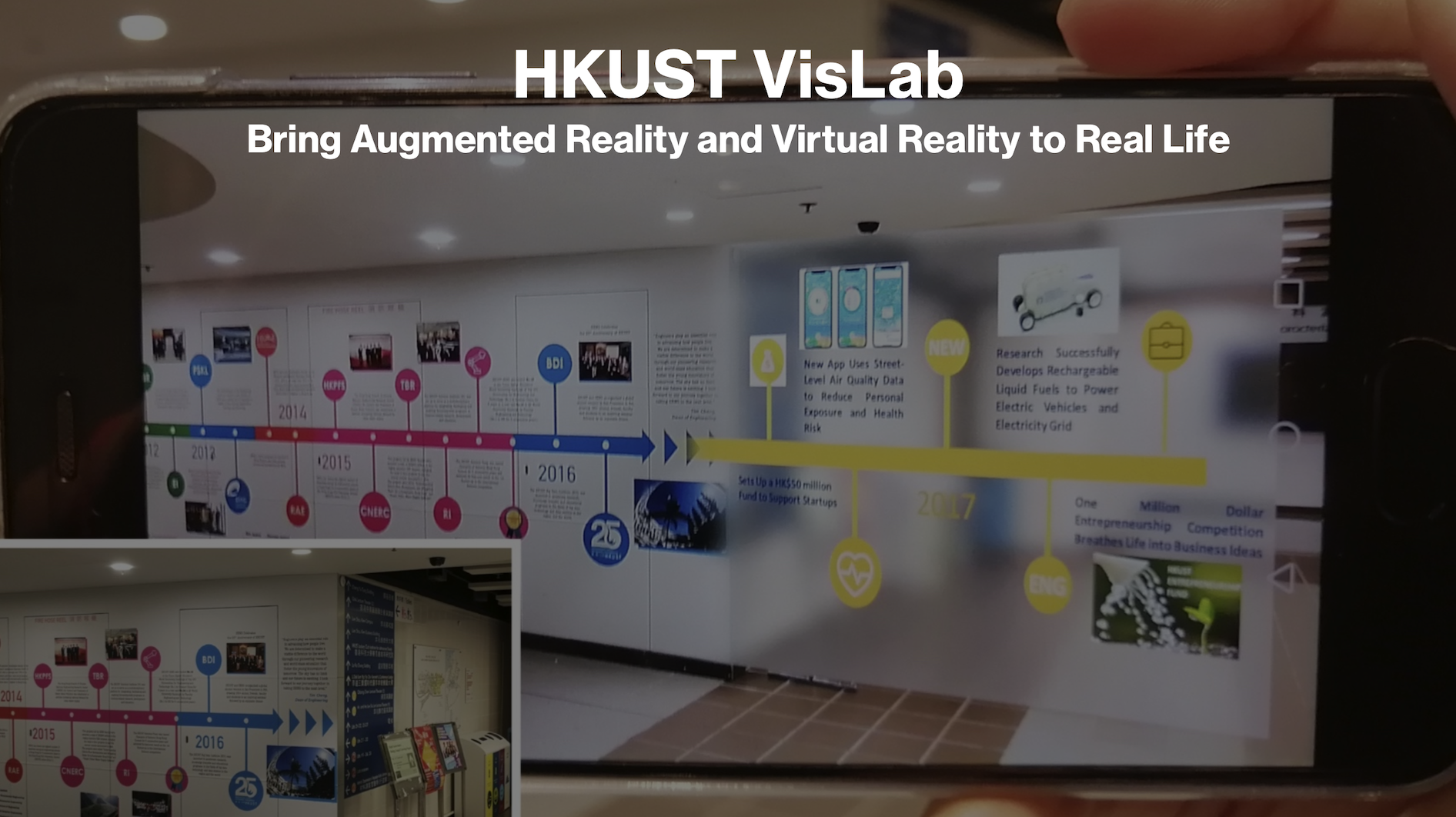 Introduction
Extended reaily (XR), including augmented reality (AR) and virtual reality (VR), are the next mainstream computing platforms. Although they have become increasingly accessible in recent years, they have not been widely adopted in daily use. The XR team of HKUST VisLab is devoted to bringing XR into real life and enriching everyone's XR experience. Our research mission is to design and develop effective XR techniques and user-friendly applications to improve productivity and creativity.
We use human-centered design and data-driven methods to innovate XR technology. We have been developing XR applications to facilitate big data analysis for decision making, resulting in novel visualization techniques, interactions, and authoring tools. Our research has contributed to solving various critical real-world challenges, including social media marketing, urban planning, and education. We are cooperating with local communities as living labs to enrich their living experience using XR. Specifically, we are building the HKUST campuses into XR-enhanced campuses to showcase how people in the future can use XR to break the constraints of time and space to live, study, and play together.
Latest News
| | |
| --- | --- |
| | Our paper Exploring Interactions with Printed Data Visualizations in Augmented Reality are invited to present at SIGGRAPH Asia 2022! |
| | Our paper Exploring Interactions with Printed Data Visualizations in Augmented Reality received an Honorable Mention Awards at IEEE VIS 2022! |
| | We won the Deloitte ESG Innovation Award in HackUST 2022 (Top prize under the ESG theme). Further details can be found here. |
| | Linping (more information here) passed her Ph.D. Qualification Exam! Her PQE topic is about using AR for real-time tasks and the design of AR user interfaces. The slides can be found here. |
Featured Projects
VisPIE
ViePIE aims to promote sustainable lifestyle with AR gamification and digital twin. We enable individuals to perceive the environmental implications of their measurable activities, immerse themselves in the climate change impacts, and empower both individuals and organizations with climate-smart choices.
Featured Publications